This post contains affiliate links. For more information see my disclosure here.
There are so many reasons to stay home for date night, especially in the winter! No driving, no Uber's, save money, stay warm! So save a little money, and stay home this Friday.
Your at home date night could be a romantic dinner, board game night, movie night, OR you could put together your own little wine tasting for the two of you! I've got to say, wine tasting is one of my favourite past times – I never seem to have learned enough, and keep having to do it again! 😉

Now, I know what your thinking Don't you have to be a sommelier or know a lot about wine?! The answer is NO.
My husband and I have been wine tasting in Sonoma, California as well as Niagara-On-The-Lake, Ontario (hoping to do some wine tasting in Chile, and Argentina in a few months too!). While we've loved these trips, I've got to say – it's hard to remember everything you learned once you get home. I don't know, it must be something about all the excitement that makes you forget..

I found this book on Amazon – Wine Folly, and it is one of my favourite books I own! It is so much fun, and so pretty to look at! It's basically a prettier, more elegant version of Wine For Dummies. I'm not sure if there is a Wine for Dummies. If there is, it definitely won't be as fun as Wine Folly.
Wine Folly walks you through the different types of wines, how it is made, what wines pair well with what food and cheeses, information about where they are from, their regions, tasting notes, and more! It is super easy to follow, even to all us Amateur Sommeliers.

On this particular date night we grabbed a couple bottles of red, all different price points and regions. My husband decided to make bread (yes, I'm serious – he makes bread! No complaints from this Carb-Junkie!), and I brought out our copy of Wine Folly.
We spent the evening listening to music, eating bread, and tasting different types of wine; while we looked up their grape and region to see what we could learn. All without leaving our house!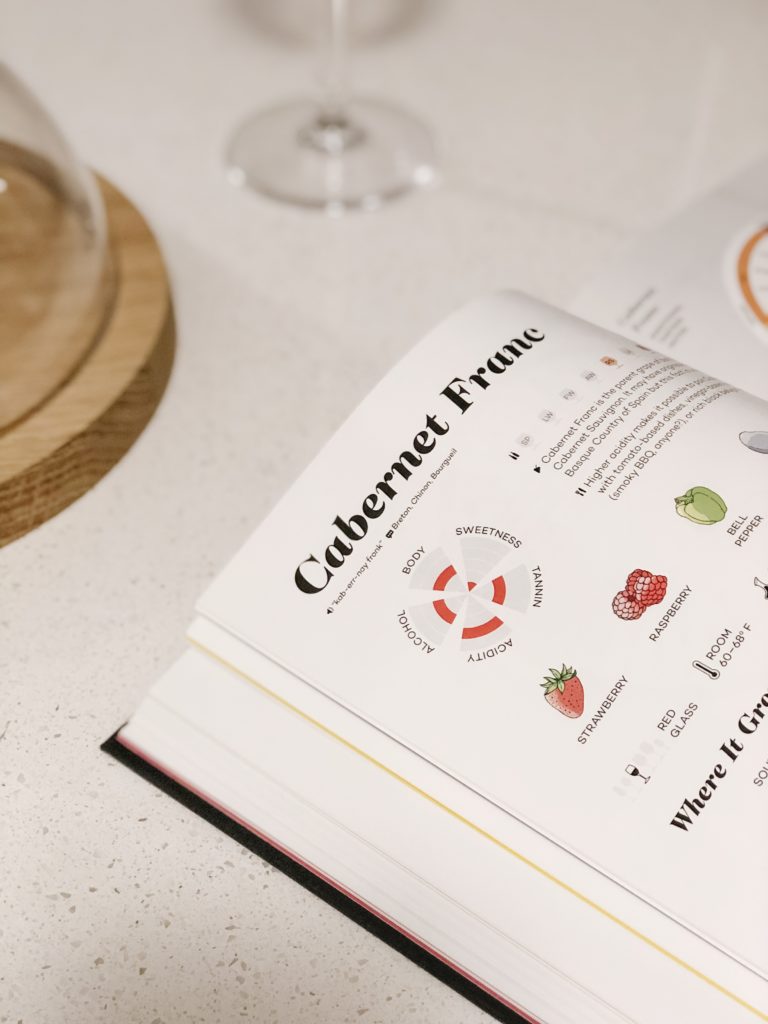 It was a fabulous evening, and a date night that we both enjoy! Have you seen this book before? Did you like it? Leave your comments below! Or – if you do buy it and try out this fun date night let me know! It could be a date night with that special someone, or a girls night! I'd love to hear about your experience with it! 🙂
I've linked the book below. I pre-ordered mine in the fall because I had heard about it when I was reading reviews, but now it's on sale! It's also prime eligible, so you could be tasting some delicious wines and comparing your notes as soon as tomorrow!
Buy Wine Folly: Magnum Edition: The Master Guide
ALSO! These wine glasses! Ugh, I love them – I was inspired by the BEAUTIFUL super-long stem wine glasses Olivia Pope uses on Scandal. I'm obsessed! 🙂
I've linked some here: Long Stem Red Wine Glasses
Can you tell I love Amazon? I don't drive, or don't like to drive anyways, so I love that I can order from them and it shows up at my door the next day -with free shipping! How can you beat that? Shopping in my PJ's? Yes please!
If you haven't tried Amazon Prime I'll put a banner below for a 30-day free trial for you as well. Just click the banner to take advantage! You can opt out if you feel it's not worth it for you, but it's a rare day in this house that there isn't a package arriving for one of us! 🙂
Pin This Post!